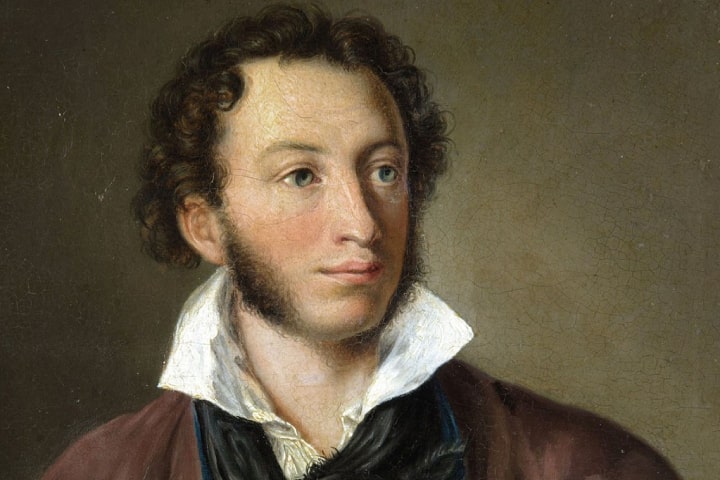 25.04.2023
Alexander Pushkin (1799-1837) was a Russian poet, playwright, and novelist, considered the father of modern Russian literature. Here are some interesting facts about him.
Pushkin is considered the greatest Russian poet and the founder of modern Russian literature. His works have had a profound influence on Russian literature, and he is regarded as a national literary hero in Russia.
Pushkin was born into a noble family in Moscow in 1799. His father was a retired army captain, and his mother was the granddaughter of an Ethiopian prince.
Pushkin was exiled to the Caucasus in 1820 for writing political poems that were critical of the government. He spent six years in exile, during which he wrote some of his most famous works, including the novel in verse "Eugene Onegin."
Pushkin died at the age of 37 in a duel with Georges-Charles de Heeckeren d'Anthès, a French officer who was married to Pushkin's wife's sister. The cause of the duel was rumored to be jealousy, as d'Anthès was believed to be having an affair with Pushkin's wife.
Pushkin's works are renowned for their depth of emotion, exquisite language, and vivid portrayal of Russian life and society. His most famous works include the play "Boris Godunov," the novel in verse "Eugene Onegin," and the poem "The Bronze Horseman."
Pushkin is also known for his love of gambling, which he inherited from his African grandfather. He was an avid card player and often gambled away large sums of money.
Pushkin's legacy continues to influence Russian literature and culture. His birthday, June 6th, is celebrated as Russia's National Day of Russian Language and Literature.
Pushkin's literary career began at an early age. He wrote his first poem at the age of 14 and published his first poem, "Ode to Freedom," at the age of 15.